Nature: Swiss Plants and Animals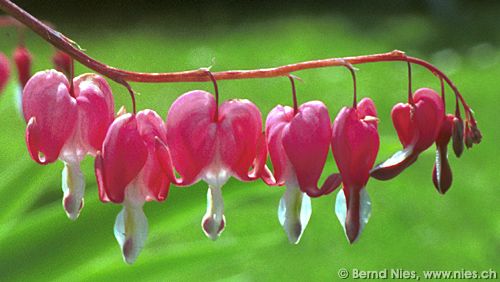 Due to the extreme differences in height from 195 m [640 ft] above sea level to over 4000 m [12,000 ft] Switzerland displays a great variety of climates with the corresponding plants and animals. While sitting under decorative palms growing in an almost Mediterranean climate along the shores of Lago Maggiore and Lake Lugano in southern Switzerland you may have a look at mountain peaks covered by eternal snow. Elevation, exposure to the sun and also steepness or flatness of the terrain do have a major influence on plants: a vertical zonation with species clustered at different elevations depending on their need for warmth or their ability to survive in colder temperatures is typical for Switzerland's plant geography. Other important factors include the amount and type of minerals to be found in different types of soil and the humidity.
Plants in Southern Switzerland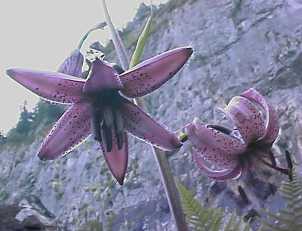 In the cantons of Ticino, Valais and the southern valleys of Grisons an almost Mediterranean vegetation with scrub, pines and chestnut trees are natural. Vine, apricots and tomatoes can be grown. Steep terrain with orientation to the south increases the temperatures, but usually irrigation is a key factor there. Without irrigation and fertilization, a completely different population of plants content with little water and minerals dominates.

Plants in Switzerland's Alps
Though the natural vegatation at 47 degrees north would be forests, the reduction in temperature in higher altitudes limits growth of plants considerably. Above 1,800 m [5,900 ft] trees become smaller and rare, and those that survive do show some similarity with Japanese bonsai trees. Scrub vegetation covers the next 500 m [1,600 ft], if not removed by humans in order to gain alps [summer pastures for cows, sheep and goats]. Above heights of about 2,300 m [7,000 ft] grass and a great variety of alpine flowers have their realm. Finally, above 3,200 m [10,500 ft] only mosses and lichen may survive. Glaciers act like giant refrigerators so that you will find a little horinzontal zonation near glaciers within a few hundred feet distance from the glacier ice.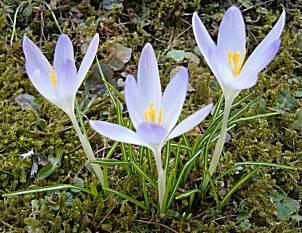 Plants in Northern Switzerland
In the cooler climate north of the alps a mix of deciduous trees and coniferous trees can be found. Where forests have remained more natural or have been renaturalized, deciduous trees as oak, beech and maple dominate at altitudes below some 1,400 m [4,500 ft]. Fast growing coniferous trees like spruce, pine and fir are the result of human influence, but they dominate naturally at higher altitudes.

Wild animals in Switzerland
Mammals

Deer and stag, fox and marten live in the forests, but sometimes they can even be seen at distances of a few hundred feet in the suburbs. The hare has become rare. Wolf, bear, lynx and beaver were extinct for about a century, but a few wolfs have reentered Switzerland coming from Italy within the last decade, while lynx and beaver were set out deliberately. Today there live some 800 beavers along Switzerland's rivers and lakes.

Chamois, marmot, and ibex can be found in the Alpine regions. The ibex, too, was extinct once and has been set out again.

Birds

A variety of almost 200 species of birds are breeding in Switzerland, among them chaffinchs, black redstarts, blackbirds, blackcaps, great and blue tits, robins, wrens, sparrows, crows, pigeons, seagulls, swans, mallards, coots, woodpeckers, starlings, swallows, nutcrackers, choughs, buzzards and kites.


The cuckoo has become rare and the lark is endangered due to intense agriculture. So is the eagle in the alps; the bearded vulture was even extinct and has been set out again.

For more bird information: bird info